Ecological textiles from nettle and hemp fibre
Nettle is an ancient fibrous plant whose silky fibers were suitable for royal clothing and sheets. The coarser fibers were utilized in sacks and fishing nets. The fact that the products might have been dismantled and re-made into another product indicates that the fiber was truly valued. Nettle and hemp grow on very little water, without herbicides or pesticides.
Sales channels
Sanna Kuoppamäki-Luomansuu founded the company Knokkon Textiles Company Oy in June 2019. The main products are fabrics and yarns. There are two types of yarn, one includes nettle and organic cotton and the other has nettle, hemp fibre and organic cotton. The fabrics are made from these yarns.
-The selection also includes a few finished products, simple such as towels and bed linen. The task of these is more to attract consumers to get acquainted with the fabric and material, Kuoppamäki-Luomansuu says.
The company has its own online store through which there are sales to both businesses and consumers. There are currently two and one retailers buying fabrics and making products for sale.
Characteristics of nettle and hemp
Nettle has the properties of silk and linen, the luxury and matte luster of silk, and the practicality of linen. The material can also be used in clothing for everyday use.
-The Stinging nettle is the most breathable of all natural fibers because its core fiber is porous, it has practically small holes. All plant fibers are hollow, but the porous core fiber of nettle makes it breathe much better than flax, for example, Kuoppamäki-Luomansuu says.
The nettle fabric is pleasantly warm on top and much more flexible than linen, the fact that there is cotton among it also affects. Nettle, as well as hemp fibre, which Kuoppamäki-Luomansuu also uses in its products, is decorticated by a mechanical method. Nettle and hemp are not soaked at all, but are cut in the field and left in the field for some time to ripen.
Kuoppamäki-Luomansuu says that both nettle and hemp look surprisingly similar in yarn or fabric and the difference is obviously not big.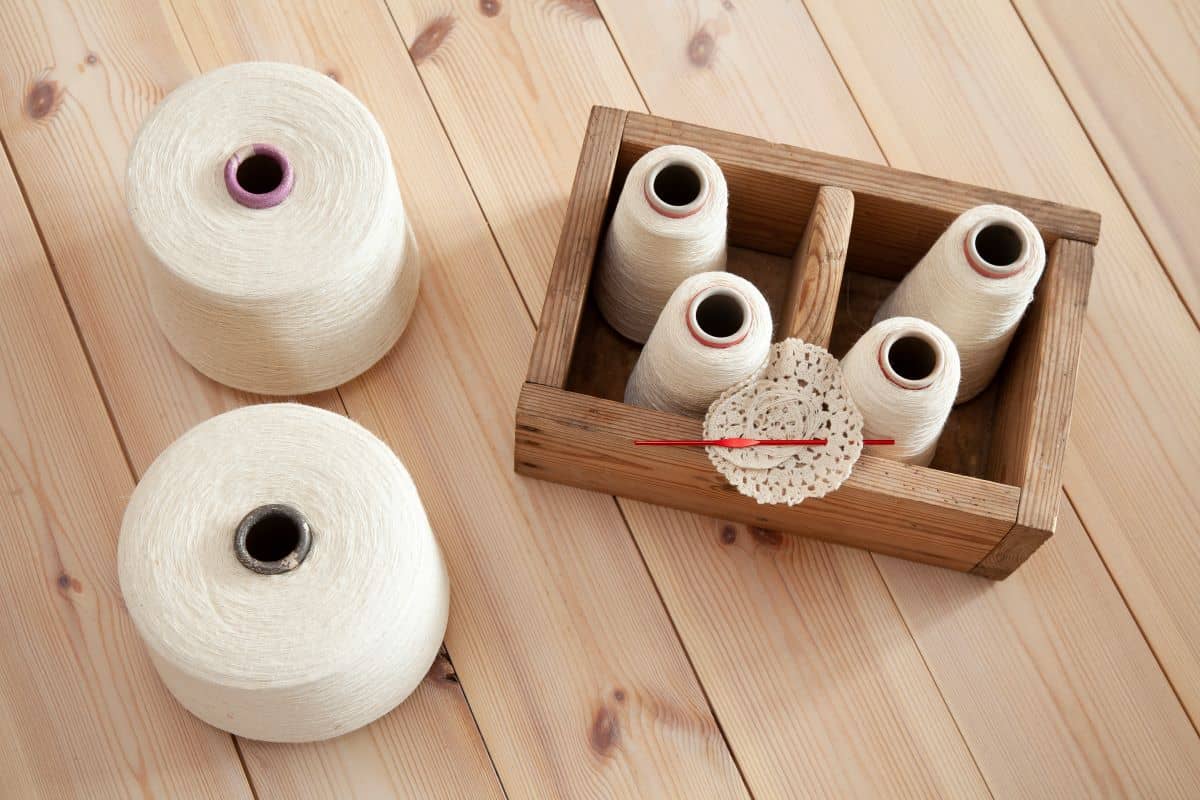 Finnish production in the future
Nettle and hemp are grown in Germany and organic cotton in Turkey. In Germany, the fibers are combined and spun into yarn. Further processing takes place in Finland and the fabrics are subcontracted in Finland. If necessary, the weaving mill can produce a large amount of fabric. Finished products are sewn in Vihti.
-For the time being, raw materials are not available in Finland, but the wish and goal is to gather interested people so that Finnish production can start.
Currently, the decortication method by which nettle and hemp is decorticated in Germany is the only one in the world that can extract the highest quality fibers from stems, the so-called core fibers. The method can be used to remove so-called debris, ie extra substances, from the stem.
The method has only recently been developed, and it will be a while before similar equipment is available in Finland. In Finland, nettle is grown, but the leaves are mainly used for nutritional purposes.
If we could find the right people in Finland who could finance and provide their know-how and contract farmers who would boldly go to try fiber production, I would be interested in joining. The fiber beak must be tall and long-stemmed and it will take some time before you get fields that produce enough fiber, but that is possible.
Application process
Kuoppamäki-Luomansuu applied for start-up support from the ELY Center,  Centre for Economic Development, Transport and the Environment, well before she founded the company. She made the application online and stated that it took a long time to make the application.
-The questions allowed you to get really close to your own company and ensure that there is a really profitable business. There were a lot of good questions in the application, and it is also important to limit our own activities so that I do not start doing everything, says Kuoppamäki-Luomansuu.
Kuoppamäki-Luomansuu has a commercial background and is familiar with filling out applications but  says that he understands that if there is no previous experience, you may find it a bit awkward. But she thinks it's good to have to think things through the company thoroughly, because you can see that something he had thought wasn't working.
-I received feedback that the business plan does not have to go into such small details, it is enough to write, for example, that the web page will be ordered from a Finnish service provider and the price is mentioned roughly. It is perhaps the most difficult thing to think about in advance how to use the entire grant money, because it has to think about two or three years from now, Kuoppamäki-Luomansuu says.
However, it was clear to the entrepreneur where the grant money would be put in the future as she pursues international markets. The online store had to be translated into English, because the store's pages had to be in English and Finnish. She also pre-budgeted for communication and marketing because she understood their importance. With the help of an outsider, she drew up a plan for how to communicate on different channels and how to present the product when it comes to new material.
Scandinavian brand
-My online store also has a business acquisition and I am looking forward to corporate clients who would be interested in sewing fabrics for a clothing collection. I don't intend to make my own clothing collections and I stick to the simple ones in my own products that act as "tastings" to showcase the materials. I have a few of my own products that are important, of course, but I don't want to compete with my customers on clothing and the most intricate sewing.
Kuoppamäki-Luomansuu is currently looking for suitable partners with whom to make a nettle scarf and blanket and get the products for sale.
Kuoppamäki-Luomansuu's wish is to make the Knokkon known in Scandinavian region, and with the support of the ELY Center, she intends to visit trade fairs in Denmark and Sweden to present products. There is a customer in the UK who mainly orders yarns, although she has not marketed there.
– It would also be nice to see someone dressed in such an ethical and ecological creation in Finnish Independence party, Kuoppamäki-Luomansuu says
Description: The purpose of Knokkon Textiles Company Oy is to reduce the use of regularly produced cotton, which requires a lot of water and chemicals by launching textile products that use not only certified cotton but also some ecological, German-grown stinging nettle and hemp. Knokkon's unique cleantech products can be widely used in a variety of textiles. The products have significant global market potential and novelty value due to their ecology, sustainability and quality. Textile products containing stinging nettle and hemp are particularly breathable, are more comfortable to wear than linen. Knokkon is a pioneer in the commercialization of this new material.
Text: Annika Söderholm-Emas
Pictures: Knokkon Textiles Company Oy